Images for illustration only, various colours available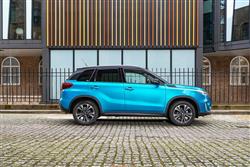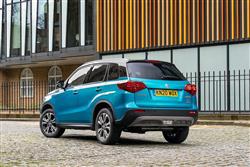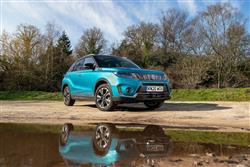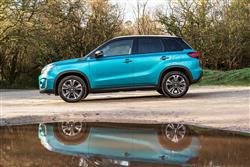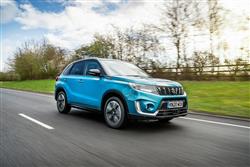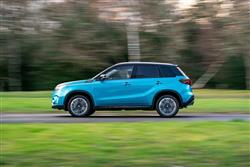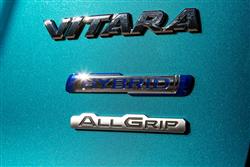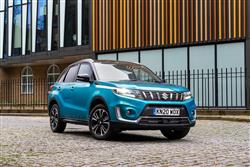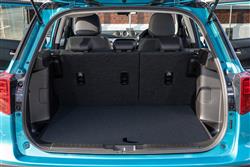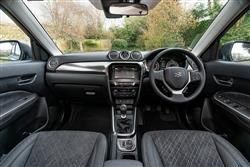 ---
351234465
174.00
238.8
£
2088.00
Inc VAT (
12
Months Upfront) |
48
Month Contract |
5000
k Miles P/A
SUZUKI VITARA

1.4 Boosterjet 48V Hybrid SZ-T 5dr
Estate | 5 Doors | Petrol | Manual
£

174.00
Per Month Inc VAT
Initial Payment
£2088.00

(

12

Months Upfront)
Contract Length:

48

Months
Annual Mileage:

5000
Document Fee: £

238.80
Average Monthly Cost: £

218.85
---
Customise your lease
---
Price History
Rating Breakdown
Technical Specs, Equipment & Colours
Vehicle Review
This Suzuki Vitara may be one of the older designs in the compact SUV segment but it now has one of the most modern engines, with mild hybrid electrification added to a redesigned K14D'-series version of the company's 1.4-litre Boosterjet petrol engine. The brand has also taken the opportunity to add extra equipment and some additional safety features. And, unusually in this class, there's still the option of a proper lockable 4WD system if you want it. Time to take a second look at this car.
Electrification is these days so important to automotive makers that developing it takes precedence over creating new designs. For proof of that, take a look at the Suzuki Vitara. The current fourth generation 'LY'-series design has been around since 2015: time, you might think, for an all-new version, given the over-riding importance of the compact SUV segment just at present. Instead, Suzuki has diverted its budgetary spend beneath the bonnet, redesigning its core 1.4-litre Boosterjet petrol turbo engine and adding sophisticated 48-volt mild hybrid tech into it as part of a move that sees every one of the company's models being in some way electrified. The result is the Vitara Hybrid model we're looking at here.
The Vitara has a slightly more athletic feel than Suzuki's other compact SUV in this segment, the S-Cross, and that hasn't been appreciably diluted by the marginal extra weight of the additional electrified tech. You may be familiar with the way that mild hybrid engines work but just in case not, here's a quick re-cap. Basically, energy that would otherwise be lost when braking or cruising off-throttle is harvested via a kinetic energy recovery system and sent to a small lithium-ion battery that here has been placed beneath the front passenger seat. This is used to drive a belt-driven 'ISG' unit (an 'Integrated Starter/Generator') and power the engine's stop/start system. Suzuki's old 12-volt mild hybrid package didn't do a lot more than that but this improved 48-volt set-up can also deliver a couple of other important benefits. The first is something quite unusual amongst current mild hybrids - the ability for this Suzuki to idle and even coast on full-electric power, though only below 10mph. The other fresh benefit here is something supposed to be now quite common amongst mild hybrid models - the ability to 'torque-fill' under acceleration to compensate for turbo lag. Which is just as well because this Vitara Hybrid's new 'K14D'-series 1.4-litre Boosterjet petrol engine has less power than the unit of the same size it replaces (127bhp rather than 138bhp). But there's now a fraction more torque (up from 230 to 235Nm). The 62mph sprint takes 9.5 en route to 118mph. There's no longer an auto gearbox option. And that proper lockable ALLGRIP 4WD system is optional on the top-spec 'SZ5' variant.
There are no visual changes with this Vitara model's switch to Hybrid power, apart from LED design headlights that now feature on all models. The car has been on sale since 2014 and the version we have now is the model that was facelifted in 2019. It remains a crossover positioned size-wise somewhere between the small and mid-sized SUV segments, 4,175mm in length and slightly taller than its visually less striking S-Cross showroom stablemate. This remains quite an assured piece of design work with its clamshell bonnet, blacked-out floating glasshouse, heavily sculpted flanks and a very neat tail-lamp finish. Inside, the cabin is beginning to date a bit, with quite a few hard plastic surfaces, though it all seems to have been pretty well screwed together by the Hungarian factory. The centre-dash infotainment screen still has graphics that look a bit after-market but this display certainly includes quite a lot, with sat nav and 'Apple CarPlay'/'Android Auto' smartphone-mirroring as well as a DAB tuner and Bluetooth. There's reasonably comfortable room for a couple of adults in the rear, though the twin sunroofs of the top SZ5 model do rob a few centimetres of headroom. Out back, there's a reasonably-sized 375-litre boot. If you need more room, pushing forward the 60:40-split rear bench frees up 710-litre of space - and the floor can be completely flat if you position the adjustable boor floor in its upper position.
There's still plenty to like about the Vitara. The light kerb weight delivers agile handling. There's more space inside than you get with competitors like Nissan's Juke. And there are high standards of specification to sugar the showroom proposition. If you regularly drive on potentially treacherous roads, it'll also matter than this Suzuki is one of the few SUVs in the class that can be ordered with 4WD. But it's harder to like all of this quite as much at the significantly higher prices that Suzuki needs to charge to cover the cost of the mild hybrid tech. Particularly given the fact that the 48-volt set-up's effect on everyday running costs, though welcome, will still be somewhat marginal. Still, this is now much more a Vitara for the modern world. And a car that in this form is now just a little more than just a fashion statement.
Monthly Payments of
£
£
218.85
Av. Monthly Cost (Including Initial Payment)
Initial Payment:
£
2088.00 Inc VAT
( months upfront)
Document Fee:
£238.80 (Charged by the leasing company)