COVID-19 – What does it mean for my new lease car?
Images for illustration only, various colours available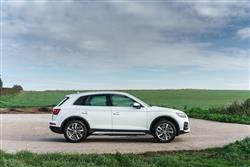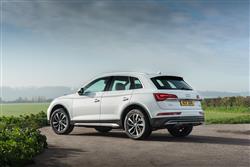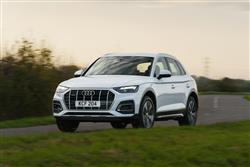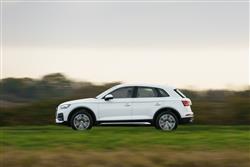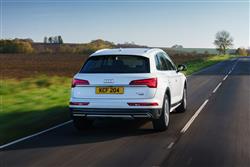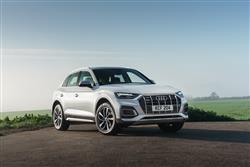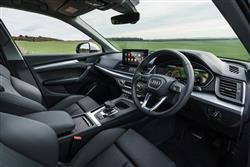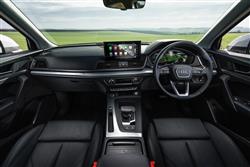 ---
39400756
366.41
360
£
3297.67
Inc VAT (
9
Months Upfront) |
48
Month Contract |
5000
k Miles P/A
AUDI Q5

40 TDI Quattro Sport 5dr S Tronic
Estate | 5 Doors | Diesel | Automatic
£

366.41
Per Month Inc VAT
Initial Payment
£3297.67

(

9

Months Upfront)
Contract Length:

48

Months
Annual Mileage:

5000
Document Fee: £

360.00
Average Monthly Cost: £

434.98
---
Customise your lease
---
Price History
Rating Breakdown
Technical Specs, Equipment & Colours
Vehicle Review
Audi's understated Q5 continues its subtle conquest of the premium mid-sized SUV sector. This improved version of the second generation model gets the option of plug-in hybrid power and an SQ5 TDI diesel variant at the top of the range. As before, this Audi offers car-like driving dynamics that are great on tarmac and are even pretty effective for light off road use. There's loads of advanced technology and a beautifully practical interior crafted in the brand's own inimitable style. In short, if you can afford it, you'd like one.
The second generation version of Audi's Q5 premium mid-sized SUV has always been a strong proposition with its sharp looks, sophisticated technology and efficient engines. Audi, you see, doesn't do things by halves. This has always been the kind of mid-sized SUV you buy if, rather unreasonably, you want something with reasonable mastery of the mud as well as the motorway. Something that'll look great in the driveway, keep you mobile in a snowy snap and shrink around you when a twisting road opens up ahead. It's a demanding brief that nearly half a million global owners felt was achieved by the original MK1 version of this car. It's successor, this model, has continued that strong sales performance. But is this second generation version still good enough to take on tough rivals that now offer a stronger challenge than ever before? To make sure that it will be, Audi has subtly improved this Q5 and added in clever plug-in hybrid tech.
Most Q5 customers will want the 190PS 2.0 TDI diesel engine used in the volume '40 TDI' variant, but low mileage owners shouldn't discount the 245PS 2.0 TFSI petrol unit in the alternative '45 TFSI' derivative. There's also a '50 TFSIe' plug-in petrol variant that uses a 299PS powertrain. And at the top of the range, buyers looking for a sporting Q5 choose between two very different variants. One is another plug-in petrol model, the 'Competition 55 TFSIe', which offers 367PS. And one is a diesel, the SQ5 TDI, which offers 347PS. Across the range, Audi's smooth seven-speed S tronic auto gearbox is standard, as is quattro 4WD, which uses the brand's 'ultra' technology to always disengage the rear-axle drive whenever it isn't needed: if necessary, the system can then proactively re-engage it. The most powerful variants can be ordered with an optional sport differential at the rear axle which distributes torque between the wheels for sharper handling. And all models get Torque vectoring for extra cornering precision. Dynamically, Audi has tried to make this Q5 feel sporty yet extremely comfortable; key elements of this lie with the supple five-link suspension set-up and the progressive electromechanical power steering system. Choose a model with adaptive damping and you'll be able to tailor the ride quality via the various settings of the standard 'Audi drive select' vehicle dynamics system. You can do the same thing with the even more sophisticated adaptive air suspension package that's available as an option. Those venturing 'off piste' will be interested in the two settings added to the 'drive select' set-up - 'lift/offroad' and 'allroad'.
Compared to the previous model, this second generation Q5 has grown in nearly all of its dimensions and takes a defined and taut stance on the road. A sculpturally flared Singleframe grille with a solid frame dominates its aerodynamically flat front end. This feature is flanked by headlights that use either xenon or full-LED technology - or buyers can order Audi's advanced adaptable Matrix LED system as an option. A distinctively curved and strongly undercut shoulder line gives structure to the side view. The strongly emphasised wheel arches are a reference to the quattro permanent all-wheel drive system, and the low greenhouse tapers back down early. Just as at the front, horizontal lines at the rear aim to convey an image of width and presence. The tailgate wraps around the C-pillars - a typical feature of Audi Q models. At the wheel, a three-dimensional trim strip runs across the entire width of the instrument panel and here's a re-designed three-spoke multifunction steering wheel. This remains a five-seat model and the rear seat is split into three segments. Longitudinal and seat back angle adjustment are optional. Depending on the rear seat position, the basic volume of the luggage compartment ranges from 550 to 610-litres, 10-litres more than in the previous Q5. When the rear bench is folded down, this volume grows to 1,550-litres.
By rights, Audi should be brilliant at 4x4s. Its quattro all-wheel-drive technology did much to popularise the concept of four driven wheels in road cars back in the 1980s so when off-road vehicles began appearing on our streets in growing numbers, the German brand should have been licking its lips. In the event, Audi proved uncharacteristically tentative. While the BMW X5 and Mercedes M-Class were making their name, the only off-road flavoured vehicle Audi could muster was the Allroad - a beefed-up A6 estate. It finally took the plunge with the Q7 but its enormous dimensions and cumbersome feel drew a mixed response. We had to wait until 2008, for Audi to really show its true colours in the 4x4 arena with the compact Q5 arriving to challenge head to head with the BMW X3 and Land Rover Freelander. The Q5 launched in the summer of 2008, slotting into the Audi range below the Q7 luxury 4x4. Three engines were offered, the 2.0-litre TDI diesel and 2.0 TFSI petrol were the more affordable four-cylinder choices but a six-cylinder 3.0-litre TDI diesel was also available as a powerful range-topping variant. The usual Audi trim level hierarchy applied with base models supplemented by SE models that added a more luxurious feel and S-Line variants with added sport. All Q5s had Audi's quattro all-wheel-drive technology. A less powerful 180bhp version of the 2.0 TFSI engine was launched in 2009 as an entry-level models in the range.
The Q5 is conservatively styled and falls in line with Audi's established design cues as they stood in 2008. It's an attractive shape though, a little less chunky than many 4x4s of its size and it achieves a low drag coefficient of 0.33cd. Dimensions that see it at 4,630mm long but only 1,650mm tall give it a sleek, ground-hugging stance and bring the centre of gravity closer to terra firma than in the majority of rivals. The Q5 might not be as bold or brash externally as we've come to expect in the SUV sector but inside, it aims to replicate the interior versatility of its most sizable rivals. Audi's cabin design and build quality remains tough to fault and the Q5 also includes some clever features that make the whole thing more practical to use on a daily basis. The rear seat backs can be reclined to increase comfort and the whole of the back bench can be folded at a stroke by means of a lever in the boot. Luggage space is 540 litres but once those seats are stowed, 1,560 litres is opened up. SE models have an advanced 10-speaker stereo, leather upholstery, 3-zone climate control and parking sensors. S-Line models have all that plus sports suspension, sports seats, Xenon headlights with LED running lights and a host of other exterior styling upgrades.
Refer to Car & Driving for an exact up-to-date valuation section. <a href="mailto:info@caranddriving.com&subject=Used Car Price Request: Audi Q5 (0 to date)">Click here</a> and we will email it to you.
(approx based on a 2008 Q5 2.0 TDI - Ex Vat) Parts can be pricey with front brake brake discs at £90 and rears at £45. Oil filters can be picked up for £10 but you'll spend more like £300 on a replacement clutch assembly.
Whether your destination is Sainsburys or the annual family skiing trip to Crans Montana, you'll feel better about doing it in an Audi Q5. In between, in contrast to larger, plusher and thirstier 4x4s, you won't get that nagging feeling of using a sledgehammer to crash a nut when it comes to meeting your real motoring needs. Nor, when you're alone on a twisty B road, should you need to wish you'd bought something sportier. Of course, this second generation model now faces much tougher competition, but the well considered package of changes made to this smarter, better equipped and higher-tech mid-sized premium SUV should keep it very competitive with cars like Mercedes' GLC and BMW's X3 in the chasing pack. Certainly it's not cheap - but then neither is anything else in this segment and at least you'll get a decent part of your money back at resale time. True, it doesn't have the showiness of a Range Rover Evoque or the ultimate handling feedback of a BMW X3, but many will still find this Audi a perfect balance between these two extremes. Resolutely hi-tech and resolutely real world, the Q5 remains resolutely right.
Monthly Payments of
£
£
434.98
Av. Monthly Cost (Including Initial Payment)
Initial Payment:
£
3297.67 Inc VAT
( months upfront)
Document Fee:
£360.00 (Charged by the leasing company)