Images for illustration only, various colours available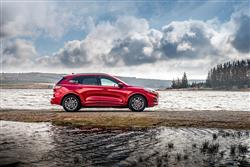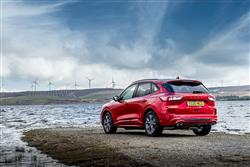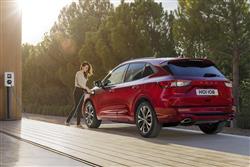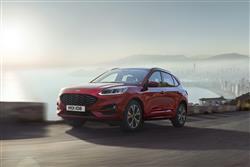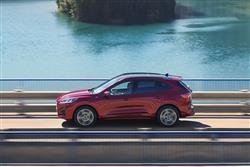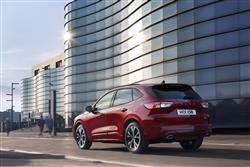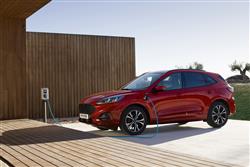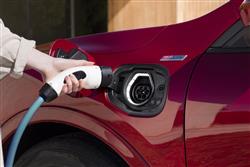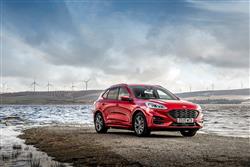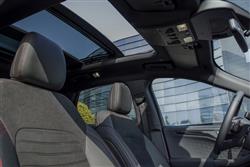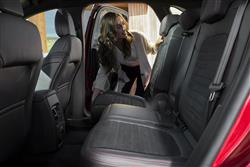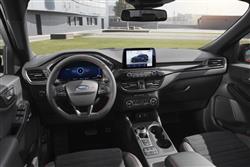 ---
482985958
243.97
0
£
2927.64
Inc VAT (
12
Months Upfront) |
48
Month Contract |
6000
k Miles P/A
FORD KUGA

1.5 EcoBoost 150 ST-Line Edition 5dr
Estate | 5 Doors | Petrol | Manual
£

243.97
Per Month Inc VAT
Initial Payment
£2927.64

(

12

Months Upfront)
Contract Length:

48

Months
Annual Mileage:

6000
Document Fee: £

0.00
Average Monthly Cost: £

299.88
This Deal Comes With 1 Year's Free Insurance
---
Customise your lease
This Lease Company has a trust score of 4.4 based on 2679 Reviews
Price History
Rating Breakdown
Technical Specs, Equipment & Colours
Vehicle Review
The Ford Kuga has evolved in this third generation guise into a more credible mid-sized SUV contender that now benefits from an engine range featuring both plug-in and mild hybrid electrified offerings. There's sharper styling, a much nicer cabin and extra technology that segment buyers will like. In short, if you're shopping in this sector, this is still a car you very much need to consider.
Ford's Kuga was one of the first affordable family SUVs to prioritise a decent driving experience. With other rivals now frequently copying that approach, the Blue Oval brand needed to do more to set its contender apart. Hence the changes made to a third generation model that's now been revitalised. The updates made are mainly of the kind you'd expect would be needed for this growing fashion-conscious market - electrified engine tech, smarter looks, extra media connectivity and more sophisticated safety provision. So, will it all be enough to keep this Kuga feeling current in a marketplace crammed with fresh, modern alternatives? It's time to find out.
For years, a Ford Kuga was the mid-sized SUV Crossover that other brands turned to if they were developing a car in this class and wanted it to be good to drive. This MK3 design had to offer drive dynamics that would return this model to a pre-eminent position in its segment - which was quite a brief for the Ford engineers because it also had to be bigger and carry around quite a lot more weighty equipment. Helping them was this third generation Kuga model's adoption of engineering from the planet's best-handling family hatch, the Ford Focus. This SUV shares that car's stiffer, more sophisticated C2 platform and, unlike the Focus, has the advantage that in all its forms, it features proper all-round independent suspension. On top of that, the steering column's twice as stiff as that the previous MK2 Kuga and compared to that old car, there's a 10% gain in torsional stiffness, a 44mm wider track and a 10mm lower centre of gravity. It all sounds quite promising And so it proves. On the road, this car feels like what it is: a slightly larger, slightly taller version of the Focus. The steering isn't perfect in terms of feedback, but it's quick and accurate and much better than the previous model's electrified rack. Push on through the bends and this Ford delivers the kind of confidence you simply wouldn't normally expect a contender in this class to be able to give. You'll want to know about engines because quite a lot's changed beneath the bonnet this time round. Things kick off with a couple of Focus-derived 1.5-litre units, a four cylinder 120PS EcoBlue diesel with manual or auto transmission. Or a manual-only three cylinder EcoBoost petrol powerplant, offered with either 120 or 150PS. Ideally though, you'd stretch to one of the electrified engines Ford really wants you to try in this car; there are several - though all of them are combustion-based. The mild hybrid option ought be the most popular, a 2.0-litre EcoBlue mHEV diesel with 150PS, though was a proposition slightly hobbled at the time of this test by Ford's inability to offer it with either automatic transmission or AWD. For both of those two features in a black pump-fuelled Kuga derivative, you'd have to have the more conventional 2.0-litre EcoBlue 190PS diesel model - which has the largest towing capacity in the range, rated at 2.1-tonnes. Your other route to 4x4 traction in a Kuga is to opt for the self-charging 'HEV' full-hybrid petrol model, which can be had in front-driven or AWD forms and uses a 2.5-litre normally aspirated Duratec engine. This is mated to an electric motor (or in the case of the AWD variant, a pair of electric motors) powered by a 1.1kWh lithium-ion battery that sits at the back of the car. Total power output is 200PS and the front wheels are driven via a power-split CVT belt-driven 6-speed automatic auto transmission. Much the same engineering set-up also features in the top 'PHEV' Plug-in 225PS hybrid variant we tried, though with this front driven-only model, there's a much bigger 14.4kWh battery, facilitating a 35 mile WLTP-rated all-electric driving range.
This third generation Kuga is a significantly bigger thing than its predecessor. It's 44mm wider and 89mm longer than the outgoing model, while the wheelbase has increased by 20mm. This is thanks to a new C2 platform that allows for a wheelbase increase of 20mm and has allowed this Ford to become one of the bigger SUVs in the mid-sized sector, freeing up space for the brand's new Puma crossover to fit in between this Kuga and Ford's entry-level EcoSport SUV. Inside, the exterior size upgrades translate into 43mm more shoulder room and 5mm more hip room in the front seats than the outgoing model, while rear passengers benefit from 20mm more shoulder room and 36mm more hip room. Despite an overall height that is 20mm lower than the outgoing model, this third generation Kuga also has 13mm more headroom for front seat occupants and 35mm more in the rear. For rear seat passengers, heated outer seats are available for the first time, and the entire second row of seats can be moved backwards for best-in-class 1,035mm rear legroom, or forwards to increase boot space by 67-litres. A remote release function enables the second row to be folded flat with ease. At the wheel, it's much as it would be in a Focus hatch, with the usual 8-inch centre-dash SYNC 3 infotainment touchscreen. Upper-spec Kuga variants though, differ from their Focus counterparts in their provision of a 12.3-inch digital instrument cluster.
Having in recent years at last got serious about SUVs, Ford has also got serious about this Kuga - as it needed to. The MK1 model was cramped inside. And the subsequent second generation version had fallen behind the best of its rivals in terms of ultimate diesel efficiency, media connectivity, safety spec and visual pizzazz. All that's been put right here. This Kuga certainly needed wider appeal if it was to expand its market share and push itself up-market and this third generation re-design looks to have provided just that. Other crossovers still make more of a style statement in this class, but correctly specified, this Ford now has considerably greater showroom appeal. In summary then, it's clear that the Blue Oval brand now means business when it comes to this class of car. And if you doubt that, then you need to try this one.
Monthly Payments of
£
£
299.88
Av. Monthly Cost (Including Initial Payment)
Initial Payment:
£
2927.64 Inc VAT
( months upfront)
Document Fee:
£0.00 (Charged by the leasing company)